Eyeglasses & Optical in Pembroke Pines
With all the choices available how do you know what is important?
Overview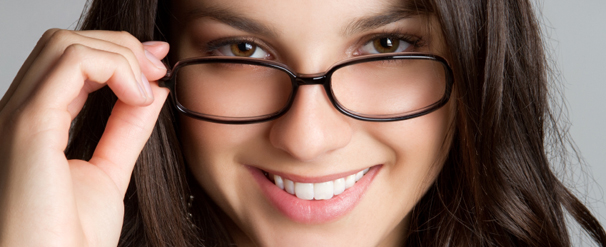 Your personal visual needs are as unique as your identity. Your lifestyle, occupation and habits must be considered along with your visual capabilities in order for your eyewear to perform optimally. As independent eye-care professionals, we are able to offer nearly all lenses and treatments available.
Eyeglasses are more popular today than ever, despite the availability of contact lenses and vision correction surgery. Frame styles branded with high profile designer names are always in demand. Eyeglass frame materials have evolved with the advent of new plastics and various types of high tech metals; each frame material offers its own advantages and style features. You can also choose a frame based on factors such as color, hypoallergenic materials, durability, lightness, price or uniqueness. Each frame is distinguished by its own strengths.
Eye Glasses Services
We offer same day eye exams and glasses. Most perscription glasses can be ready in one hour. If you are suffering from new glasses headache, we can make sure you have the right perscription and make adjustments to fix any discomfort. We also offer glasses repair for borken lenses and frames.
Transition Lenses
Never worry about forgetting your sunglasses again. Elite Vision Center in Pembroke pines offers Transition lenses that are available in most lens design, as well as lens materials.
Personalized Service
Elite Vision pairs personalized customer service with the best available technology to ensure the right prescription, diagnosis, selection, and treatments at the lowest price.  An in-house laboratory allows Elite Vision to offer a wide range of lenses and lens options in stock to give patients same day service.  Optometrists are available for eye exams four days a week.
Eye Glass Repair
If you ever damage your frames, bring them in so we can evaluate for repair, or replacement, pending brand and extent of damage.  Frames and lenses from other optical stores can be brought to Elite for repair or replacement options.
State-of-the-art eyewear:
Hundreds of designer frames such as, Gucci, Prada, Dolce Gabbana, Versace, Michael Kors, Tory Burch, Ray Ban, VIVID, as well as economical frames are available for you to choose from.  Our team can assist with finding you the right frame to fit your face.  We offer thin anti-reflective Crizal lenses in any materials and have thousands of eyeglass lenses in stock.  Transition lenses are available in most lens design, as well as lens materials.